HOMES FOR SALE IN SKY VALLEY GA

941 RIDGEPOLE DR
SKY VALLEY, GA 30537
VIEW DETAILS & PHOTOS OF
941 RIDGEPOLE DR
SKY VALLEY GA 30537

4 BEDROOM 4.5 BATH
HOME FOR SALE NESTLED IN THE MOUNTAINS OF SKY VALLEY GA AT SKY VALLEY RESORT GA

CALL DURPO REALTY - 706-746-2900
941 RIDGEPOLE DR SKY VALLEY GA 30537
DON'T MISS THE FULL VIDEO TOUR!
941 Ridgepole Dr Sky Valley GA 30537 has been completely stripped of the old and reimagined into a new modern home with a mountain feel. Fully transformed and completed in 2022, this home features 4 bedrooms and 4.5 baths.
As you arrive, you will be stunned by the thoughtful touches of this home that begin with the exterior and can be found throughout every room of the home. With white wood siding contrasting with dark wood accents and combined with metal railings on the deck, this home is certain to make a statement.
As you enter, you will further appreciate the thoughtful additions that carry into this open floor plan home. The kitchen features beautiful white cabinets, with quartz counter tops, brand-new stainless-steel appliances, and a smart refrigerator that is certain to keep you organized.
The living room is a true place to relax with gorgeous vaulted, wood ceilings and a wood burning fireplace. With access to the large, covered porch, you can expand your entertaining to an outdoor living area with mountain and valley views.
The master is on the main level and has a modern feature wall that makes your master suite feel even more luxurious. Enjoy plenty of natural light and peaceful evenings with private access to the back pork. The master bath features a dual vanity and a large shower. The upper level also has an additional master suite with private bath.
The lower level provides an additional living room with a second wood burning fireplace, wet bar, and plenty of natural light with access to the back porch where you can expand your outdoor living even more. The lower level also features 2 additional master suites, each with private bath, offering your family and guests their own private retreat.
Live in wonderful Sky Valley Country Club, with NO mandatory HOA Fees. Available Amenities include swimming, tennis, pickleball, croquet, fitness center, simi-private golf course and a new Clubhouse and Pro Shop.
Just a short drive from dining at Bella's Junction Café and Julep Farms or recreation at Highlands Aerial Park, Highlands Outpost, offering The Scaly Mountain Screamer Coaster, Gem Mining, and Trout Fishing.
Located on the Atlanta side of the mountain, only a 20-minute drive to Main Street in Highlands, you don't want to miss this must-see home. Come see why so many people are falling in love with our special area!
SKY VALLEY RESORT HOMES FOR SALE
Click Floor Plan Image Below to View Plans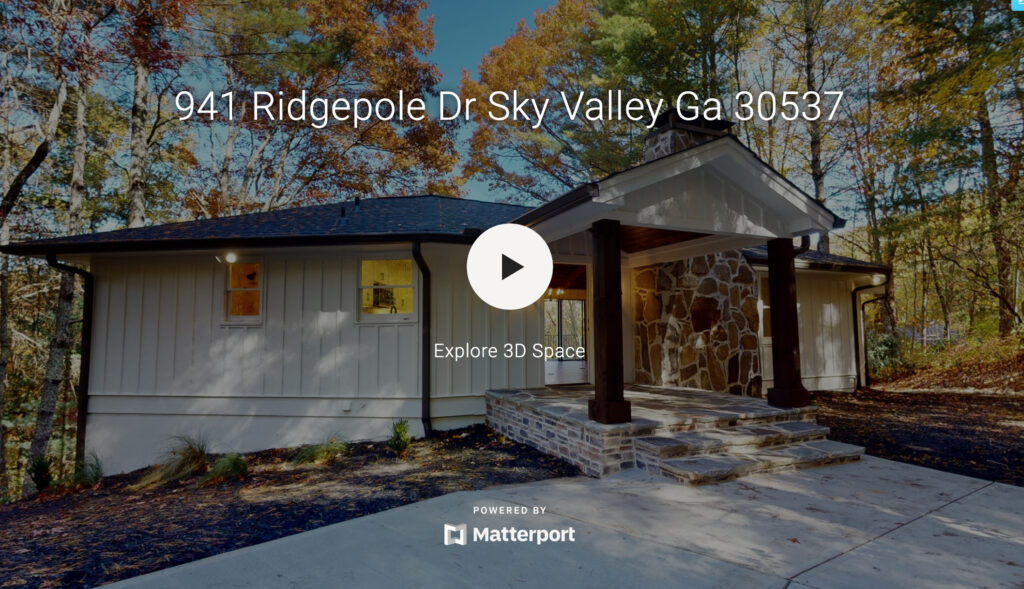 941 RIDGEPOLE DRIVE FEATURES
941 Ridgepole Dr Sky Valley GA | Sky Valley Ga Real Estate in Rabun County at the Sky Valley Resort and Country Club are near Highlands North Carolina.  is the Real Estate agent to call when shopping for Sky Valley real estate, houses for sale in Sky Valley, and other real estate for sale. Chip can help you find property for sale in Sky Valley as well as homes for sale Sky Valley. Be sure to watch the full video tour of this fantastic mountain living opportunity.
The Sky Valley Resort and Country Club Clubhouse benefits are offered to members of the Country Club. With multiple tiers of membership, joining socially gives you access to the clubhouse restaurant and many other amenities.
The Clubhouse hosts yearly events that are open to members. Moreover, these events are fun for everyone and a great time to mingle with friends and neighbors. Come Visit Sky Valley Ga Resort.
All Durpo Realty Associates listings are listed in the Georgia and Highlands Multiple Listing Service. Please Click to view Durpo Realty Associates Featured Listings. We can help you with all Property for Sale in Sky Valley Ga Listed by any Real Estate Agent. Also, Durpo Realty Associates is a proud member of the National Association of Realtors
With an official population of under 300 citizens Sky Valley, Ga encompasses 3 square miles of land. Sky Valley is a unique place to live and play. In 2004 the remaining development is sold, and the ski slopes closed, leading to the creation of Sky Valley Resort and Country Club, a lifestyle designed community nestled in the scenic mountain valley of Rabun Bald. With 18 holes of championship golf, hiking, walking trails, and many other activities within 15 minutes, Sky Valley Resort and Country Club is the perfect mountain escape!
THINGS TO DO IN THE SKY VALLEY AREA
Play a beautiful round of Golf at Sky Valley Resort and Country Club is the favorite of locals and visitors.  After the clubs redesign in 2007, this challenging course is fun for golfers of all ages. It was voted as the best public course in the State of Georgia. With 18-holes of amazing views and challenging holes, golf here will not disappoint. Furthermore, this club offers membership for locals and is open to the public. After the round, enjoy a drink and lunch at the 19th Hole.
MORE ABOUT HOMES FOR SALE SKY VALLEY GA
Homes for sale in Sky Valley Ga are surrounded by the exquisiteness of the North Georgia mountains. With everything a short drive away, Sky Valley offers modern conveniences with a small community feel.
Surrounding Sky Valley Country Club, Sky Valley real estate has many unique qualities. Furthermore, with optional tiers of club membership and no HOA fess.
Houses for sale in Sky Valley, Ga offer the country club life without the high fees. Sky Valley Ga Real Estate for Sale can be found with beautiful views from the mountains to the valley to the challenging and fun 18-hole golf course.
Sky Valley real estate is available in everyone's price range. Therefore, when you are looking for houses for sale in Sky Valley, Ga contact Durpo Realty Associates at 706-746-2900 for expert help finding your dream home!
Share This Great Property With Your Friends
Schedule Your Private Showing
Chip Durpo RE/MAX Agents Realty